How to create a Windows bootable DVD/USB
When Windows fails to boot, or migrate the system from a backup image to another HDD/SSD, we may need a WinPE
bootable Disc. Under the Pre-installation Environment, we can run EaseUS Todo Backup without a system boot partition,
and recover data from the backup. EaseUS Todo Backup supports two ways to create the rescue CD or bootable DVD:
Linux based bootable disk and WinPE based bootable disk. However, most of the functions are not available under Linux
based bootable CD, so we recommend you to create the WinPE bootable CD first.
Make a bootable USB
The latest version (since V8.0) of EaseUS Todo Backup has better compatible with Windows 7/8/8.1 and UEFI when creating WinPE bootable media. Meanwhile, it saves the time of downloading AIK/WAIK.
Step 1. Run EaseUS Todo Backup, and click "Tools". It will pop up the window which lists the two ways: Create WinPE emergency disk and Create Linux emergency disk. Select Create WinPE emergency disk and select USB to create the rescue media.
Step 2. Click "Proceed" to create a bootable disk.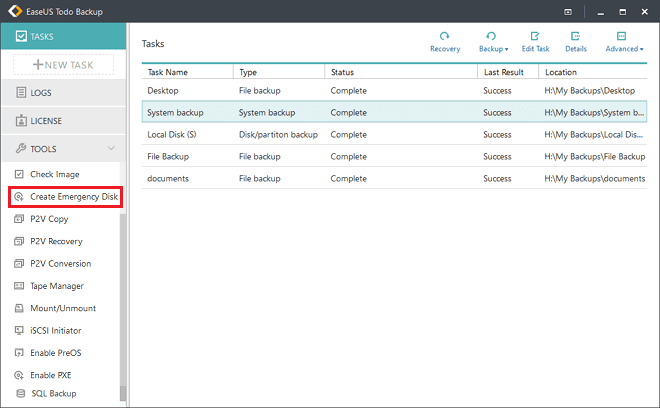 After successfully creating the bootable disk, you can boot the computer, press Del to enter DOIS and set "USB Boot Device" as the first boot device. Now you can recover system /data backup or do other operations with EaseUS Todo Backup.
Create the bootable CD/DVD
The CD/DVD bootable creation is similar with the bootable USB creation, just replace USB with CD/DVD. And in the DOIS setting, set CD-ROM as the first boot device. That's OK.
Create the bootable ISO image
Step 1. Launch EaseUS Todo Backup, click "Tools" -> "Create emergency disk".
Step 2. Select "Create ISO", browser the specific location to save ISO files. Click "Proceed".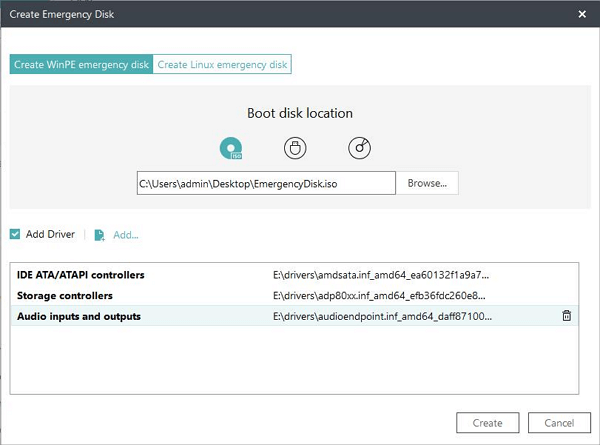 Step 3. After making the ISO image, we need to burn it to CD/DVD with Nero.
Load up Nero Burning ROM, select "Recorder" -> "Burn Image"" -> select File image.iso.
In the Burn option, select "Determine maximum speed" and "Write", then Burn. Done.